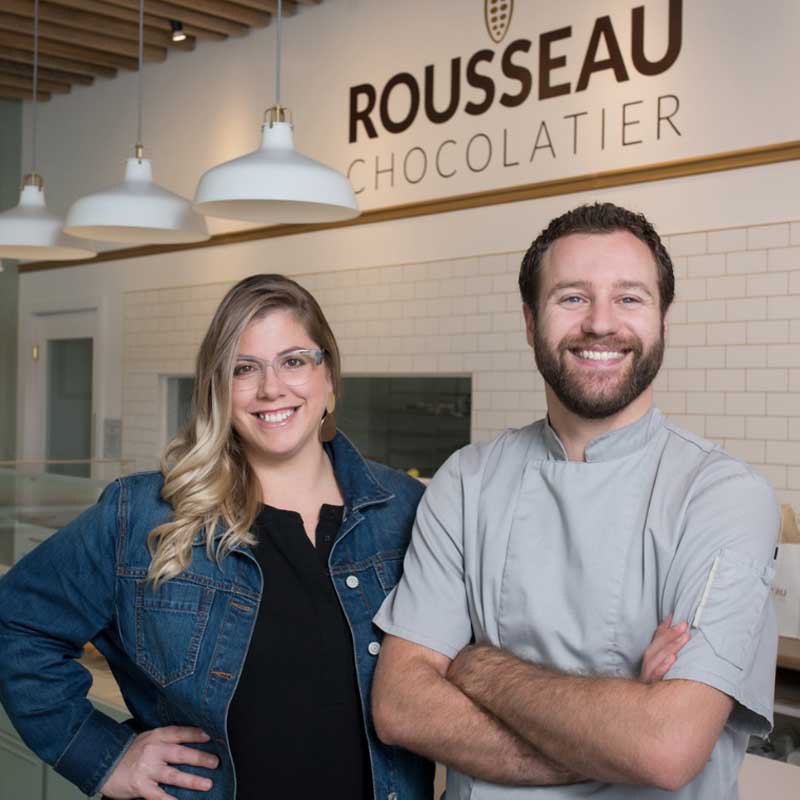 ROUSSEAU CHOCOLATIER
Halifax, Nova Scotia
Husband-and-wife duo Julien Rousseau-Dumarcet and Nathalie Morin own and run Rousseau Chocolatier, a chocoholic's delight located smack dab in downtown Halifax.
A Q&A WITH OUR FEATURED VENDOR
[JULIEN]
How does being a father inspire you in running your business?
Nathalie and I have been pouring everything we have into this venture from Day 1. Now that we have our own family, our reasons for persevering and working hard are an even greater incentive for providing a bright future for our children. In my mind, there's no better motivator! 
How do you and Nathalie balance your business and your kids? 
We try our best to find a balance even though it is sometimes difficult during our peak seasons. We try to take a bit more time off in the summertime with them when things slow down. We are thankful that our business now allows us the flexibility to step away for a few extra days – that is priceless.
What do you love most about being a dad? 
I love seeing my son being a fantastic big brother to his baby sister, he shows her so much love and attention. It's adorable and makes me that much more proud of him! Of course, I love seeing him smile when I give him a piece of chocolate that I have created. And I look forward to seeing my daughter's delight as soon as she's old enough for chocolate!
[NATHALIE]
What is it like balancing both a business and children with your partner?
It's been a big learning curve for sure. The pandemic has taught us many things. Possibly, the most important lesson was to slow down and lead a more intentional, authentic life. We are very thankful to now have regular time off with them on weekends, providing ourselves with a nurturing quality of life is essential for our family now.
Watching Julien as a dad, what makes you smile the most? 
I love watching him make our kids laugh uncontrollably with his tickles and kisses!